The Tesla Model 3 is the most popular electric vehicle in the world by a long shot. To put it into perspective, you would have to combine the next five cars on the Top 20 list to come even close, and those cars still haven't sold as many as the Model 3 has this year.
According to the EV Sales Blog, the Model 3 dominated August 2020 with 31,281 units sold and delivered worldwide. The second-place Wuling HongGuang Mini EV sold 9,150 cars in August, outlasting the Tesla Model Y, which sold 8,052 vehicles.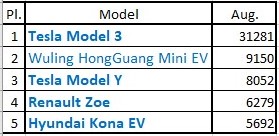 However, Year-to-Date domination of the Model 3 is evident when numbers come into play. The Model 3 has been sold 196,106 times so far this year.
The affordable…
Read…

www.teslarati.com